Life Safety Tracker System®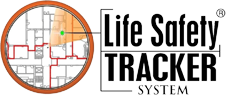 About The Life Safety Tracker System®
Since 1992 Gleeson Powers, Inc. has been the leader in passive fire protection, fire barrier management and customer satisfaction. Many of our clients are the most respected in the healthcare, education and commercial industries.

After years of seeing the same recurring issues with regard to maintaining the life safety and code compliance of buildings, we built a software program to mitigate these issues. The Life Safety Tracker System® (LST) was designed to document, record and track passive fire protection - such as, MEP penetrations, fire and smoke dampers, fire doors and the integrity of fire rated wall construction.

Since 2007, Gleeson Powers, Inc. has used the Life Safety Tracker System® in hospitals throughout the Northeast to manage and track work performed. In 2014, we decided to launch the Damper Module of the LST as a stand-alone software product available to healthcare, colleges and universities, and commercial industries.

We think you will be as excited as we are about the time and money it will save you - while at the same time keeping your facility compliance ready and ensuring safer buildings -- and thus potentially saving lives. Give us a call or request a demo to learn more.